Implant Restoration
Missing a tooth? Imagine Dental offers dental implants (also known as tooth implant) to all downtown Calgary clients, both new and returning. Dr. Danielle Davids is an experienced implant dentist and can complete most dental implant procedures right in the comfort of the Imagine Dental office. Though the procedure can seem complex, most patients find it goes smoothly and with less hassle than anticipated. Whether you're missing a tooth or need to have one removed, Imagine Dental offers the latest advancements in implant dentistry so your smile can be complete again as soon as possible.
Requeset an appointment >
The Tooth Implant / Dental Implant Procedure
Dental implants are done by attaching an artificial tooth to an implant that is anchored into the bone below the gum line. After an anchor has been placed into the patient's jawbone, excess bone and gum will grow around the dental implant and hold it firmly and permanently in place.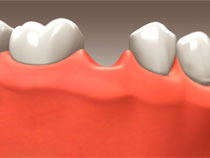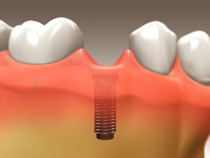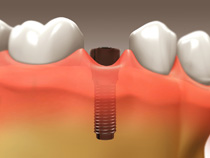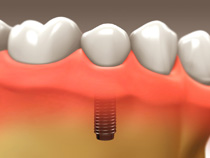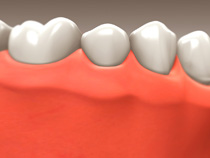 Once the dental implant is secured, a custom made artificial tooth is then attached to it. The result is a very strong, highly secure tooth implant that is virtually indistinguishable from the patient's natural teeth.
Implant Dentist at Imagine Dental Calgary
Imagine Dental's experienced team can provide implant dentistry services when it's most convenient for you. Our downtown Calgary location and simple online appointment booking system lets you schedule your appointments before work, on your lunch hour, on a break, or any other time throughout your workweek so you don't miss out on your weekend.
Meet our dentistry team >
For more information about dental implants please check out our dental blog, watch our dental videos, or read our patient education library. For specific health issues, ask the dentist at Imagine Dental for advice or tips exclusive to you and your oral health.